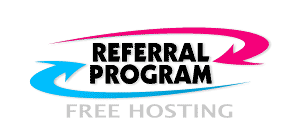 We are pleased to offer our Web Hosting Referral Program.

When someone clicks a link from your website to our website and signs up, your referral will be tracked and your account will be automatically credited for a month of FREE WEB HOSTING.

Simply copy the code below and paste it into your website pages. Referral tracking begins when your pages are online.

If you need assistance, please contact us toll free at 1 (800) 369-4966 and we will be happy to help.